Solar Thermal

Our consultants will assist you and explain the benefits of solar energy to you personally. We will provide answers to your questions and customize a solution to fit your residential or commercial needs. After designing your system, we will take care of the entire process, from permits to installation. Once the installation is complete, you can enjoy the benefits of your solar system while knowing it is backed by industry leading warranties on both parts and labor.


Solar Array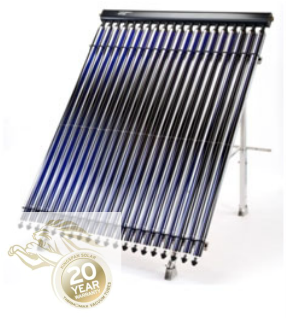 Domestic Hot Water
Space heating
Pool heating
Reduce oil and electric billsThermomax evacuated tube collector
The Kingspan Thermomax Heat Pipe collector is the most efficient, longest lasting heat pipe type solar collector on the market today. Made in Europe since 1982, Thermomax has withstood the test of time. Each collector consists of a highly insulated manifold and a series of evacuated tubes. The vacuum inside each tube provides perfect insulation, protecting the system from outside influences, such as cold and windy weather or high humidity. The dry connection between manifold and tube means Thermomax heat pipe systems are perfect for commercial installations – the tubes can be inserted only when the building is complete and the system is ready to use.
Features
Highly efficient – super fast heat transfer
Temperature limitation safety device
Ease of installation and maintenance
'Plug and play' design
For more information about Kingspan products, click here.
---
Solar Hot Water Systems by Stiebel Eltron

Stiebel Eltron residential solar kits are configured to suit the needs of many different household sizes. No matter the climate zone, there is a solar kit that the customer's lifestyle.

Superior German quality
Made in the USA solar collectors and racks
10 years warranty on solar collectors & racks
Lifetime warranty on storage tank made in Germany

Free Estimates - Call Us Today (570)- 336-2617